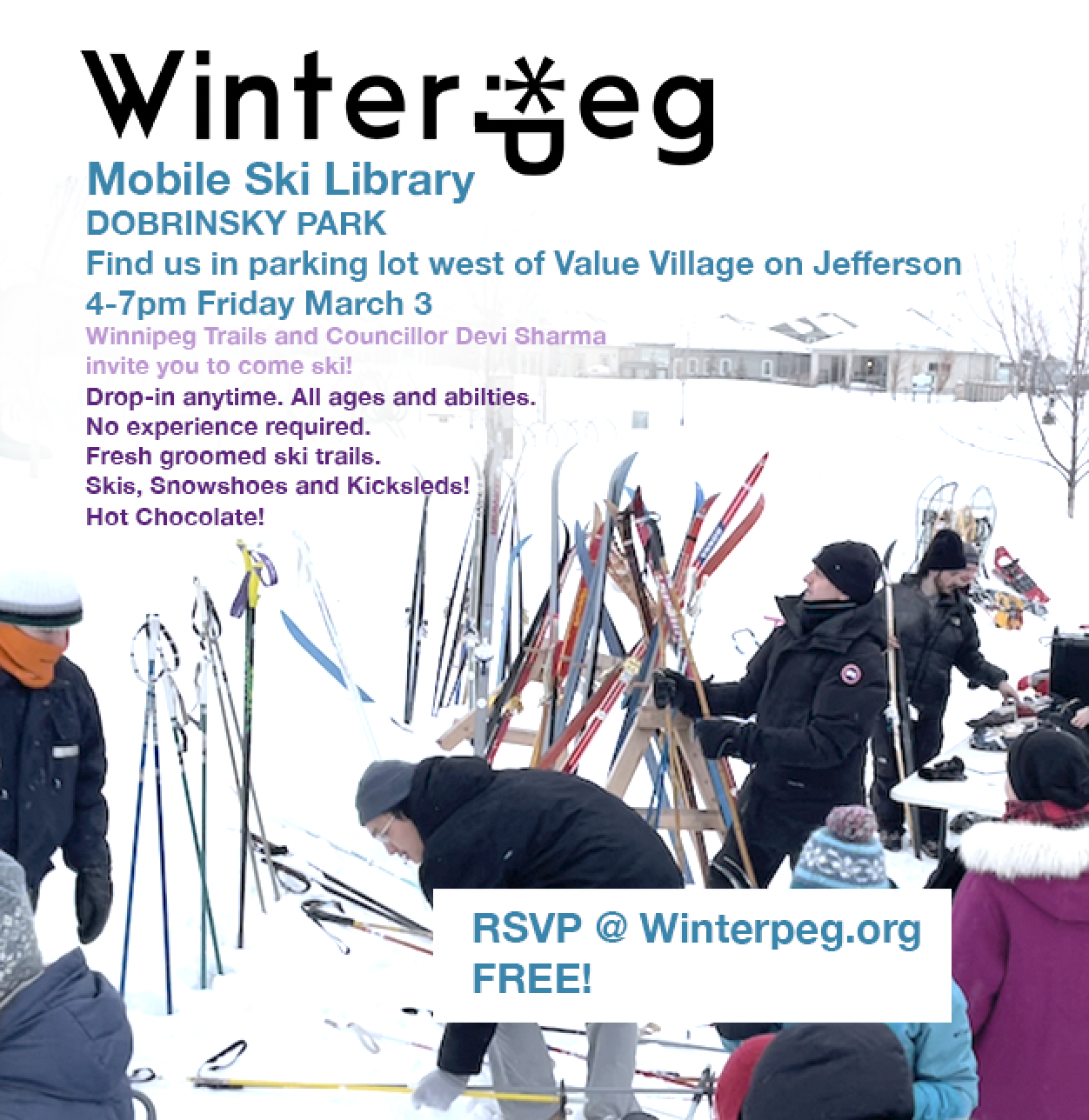 Dobrinsky Park Mobile Ski Library!
Come ski at Dobrinsky Park! This is a unique little loop that a combines hidden little park in an area around where a new permanent trail will be built soon along the Hydro corridor. If you know where the Value Village is on Jefferson, look for us just to the west in the parking lot!
RSVPs appreciated (see below)
Lots of equipment! Something for everyone. Families and small kids very welcome.  Toques, mitts and scarfs are a good idea. Dress in warm clothes, layers are great!
We'll have a warm fire and hot chocolate.
Warming trailer too!
Drop-in. Ski as long as you like. Families welcome. Newbies are very welcome too! If you'd like some tips, we're here to help.
This is a GREAT spot to learn to ski especially for beginners. For those who already love to ski, its a chance to ski somewhere strange and new! There is even a little hill – if you dare.
Mostly flat with a short loop. If you have never put on a ski or don't know your poles from your 3pins, you're in luck!
Don't ski want to ski? Kicksleds, Snowshoes available too.
You are more than welcome to bring your own equipment too.
As always, a groomed trail will be available during the pop up and all the equipment is free!
Accessibility for all is important to us. We have sit skis, wheel blades and other equipment for persons with mobility impairments who use wheelchairs. Visually impaired skiiers are welcome too. We have trained staff too and offer a warm welcome to anyone. Got questions about accessibility? We recommend emailing [email protected], our accessible equipment specialist, who will be happy to help determine the right equipment and make sure you have what you need!
Want to get involved? Awesome. Sign up to volunteer here.
This event is FREE.
Getting here
The ski library will be setup here (Google Maps).
Look for us just west of Value Village, in the parking lot.
Lots of buses stop on Jefferson. Here is the closest bus stop.
If you need someone to watch your wheelchair or bicycle while you ski, we can do that.
Dubrinsky-Hydro Loop on Trailforks.com