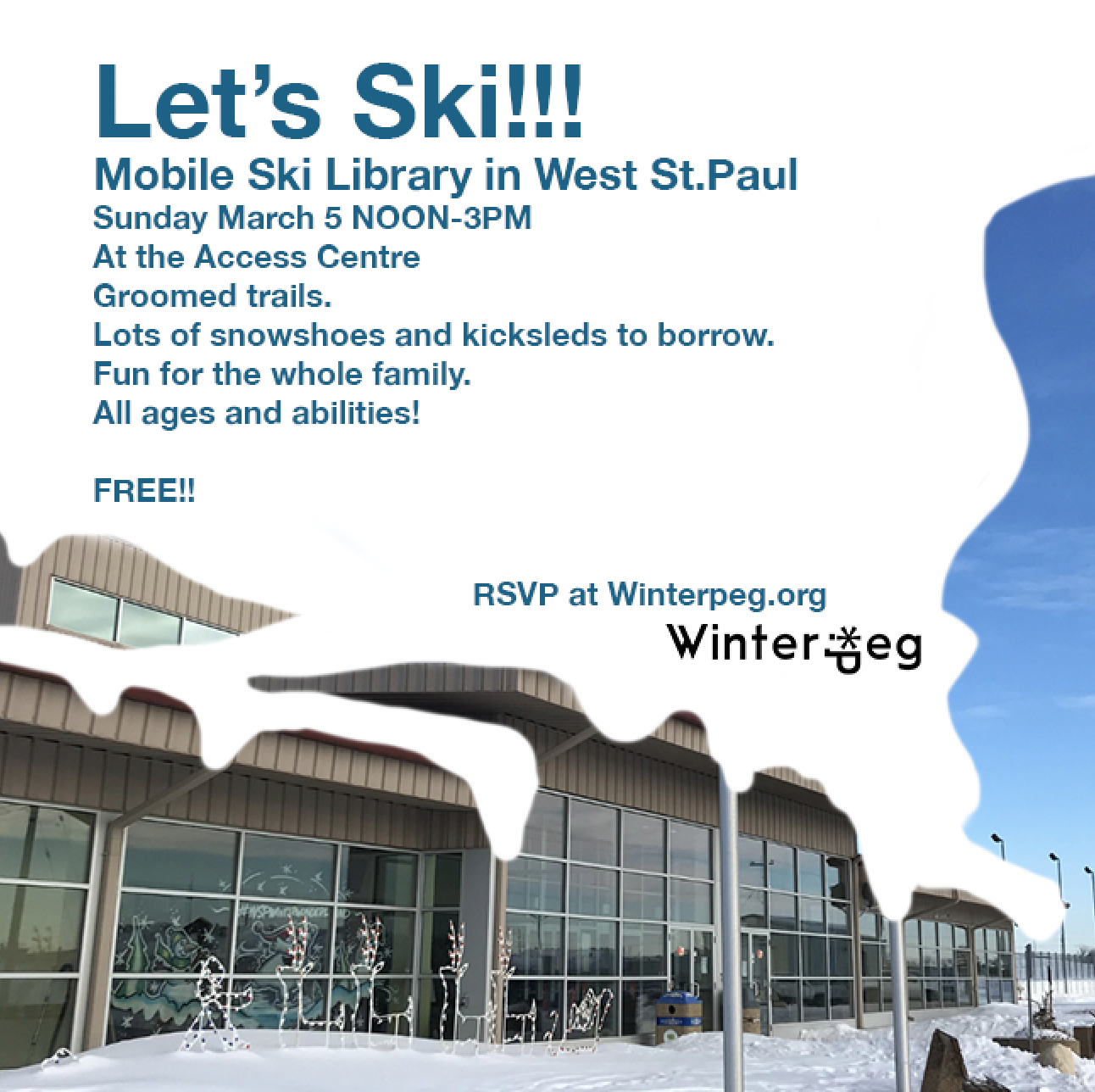 West St.Paul Mobile Ski Library!
Come ski West St.Paul!
We are hitting the road and leaving the city… (Don't worry Winnipeg we'll be back…) We're excited to have been invited out to West St.Paul by the RM of West St.Paul to host a ski library at the Access Centre just north of the Perimeter, off Main on Holland road.
RSVPs appreciated (see below)
Lots of equipment! Something for everyone. Families and small kids very welcome.  Toques, mitts and scarfs are a good idea. Dress in warm clothes, layers are great!
We'll have a warm fire and hot chocolate.
Warming trailer too!
Drop-in. Ski as long as you like. Families welcome. Newbies are very welcome too! If you'd like some tips, we're here to help.
This is a GREAT spot to learn to ski especially for beginners. For those who already love to ski, its a chance to ski somewhere strange and new!
Mostly flat with a short loop. If you have never put on a ski or don't know your poles from your 3pins, you're in luck!
Don't ski want to ski? Kicksleds, Snowshoes available too.
You are more than welcome to bring your own equipment too.
As always, a groomed trail will be available during the pop up and all the equipment is free!
Accessibility for all is important to us. We have sit skis, wheel blades and other equipment for persons with mobility impairments who use wheelchairs. Visually impaired skiiers are welcome too. We have trained staff too and offer a warm welcome to anyone. Got questions about accessibility? We recommend emailing [email protected], our accessible equipment specialist, who will be happy to help determine the right equipment and make sure we have what you need!
Want to get involved? Awesome. Sign up to volunteer here.
This event is FREE.
Getting here
The library will be setup here. 
By car: plenty of parking.
By transit: We don't think transit buses don't stop here or that West St.Paul has a transit system. Maybe one day soon, hopefully.
By bike: We've heard rumbling of some exciting bike path planning work in the RM and there are some bike paths and ways that people might bike here. If you do bike out, great. There are places to lockup.
Accessibility: Note that if you are a wheelchair user, we can watch your chair while you sit ski.