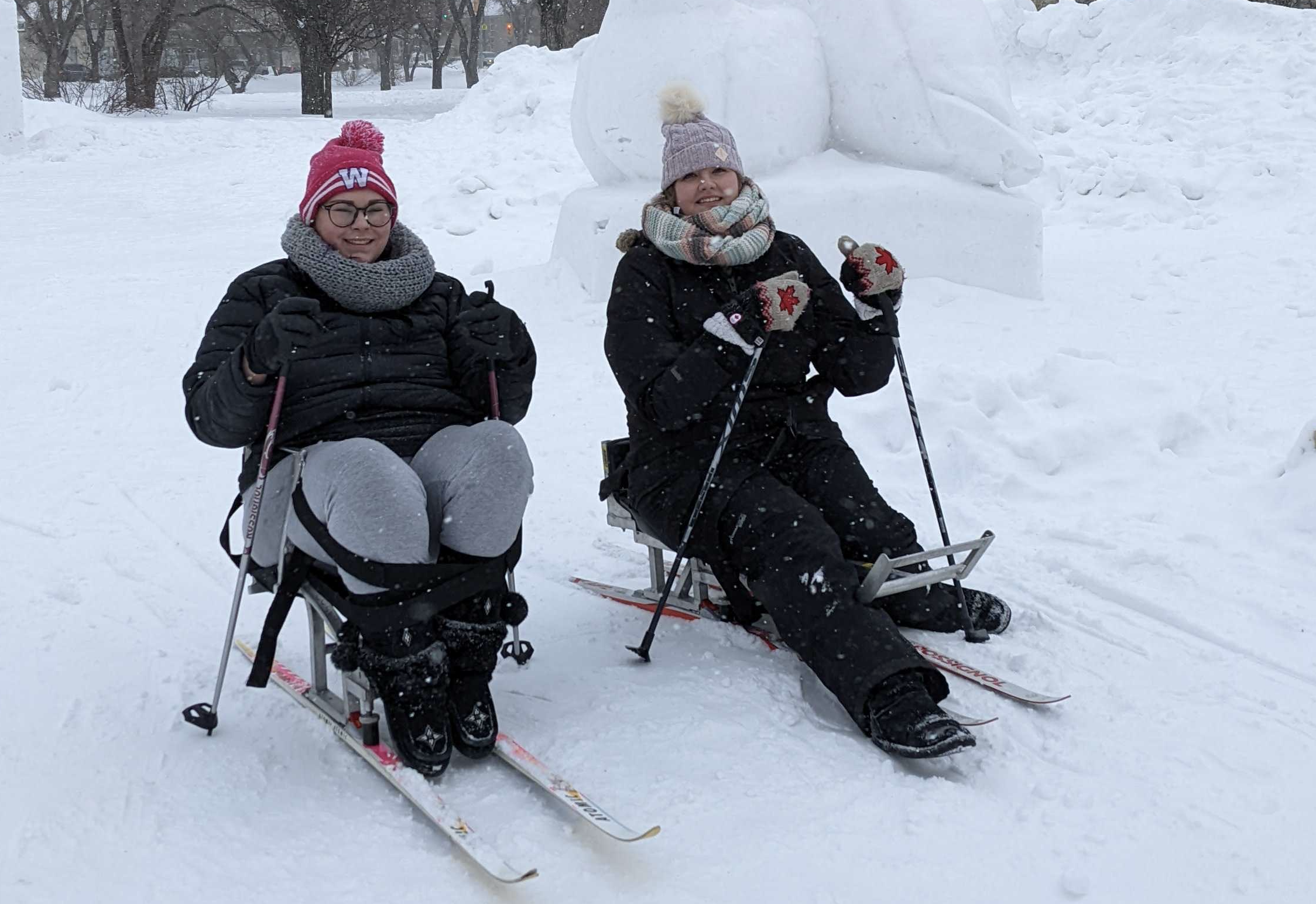 Adapted Ski
This weekly event is hosted in partnership with Accessible Sport Connection Manitoba and the Vision Impaired Resource Network. Join us every Tuesday at Kildonan Park Golf course from 6-8pm!
We invite persons with a disability to try skiing, snowshoeing or kicksledding. This is a chance to try adapted equipment, and meet a ski guide.
We want you to have fun, outdoors this winter and inspire you to try something new! Check out the really cool adapted equipment. share your knowledge about accessibility with us, learn tips and tricks from our facilitators. Let's work together and create more accessible and inclusive spaces. All ages and all abilities are welcome. If you have it, you are welcome to bring your own equipment too!
The event is facilitated by the dynamic duo of Kirby Cote and Olexsandr Korniiko! They are very passionate about creating opportunities for persons with a disability to get active.
Kirby is an athlete with a disability and a retired paralympic swimmer who works with Winnipeg Trails as our active aging coordinator. She is relatively new to skiing and keen to get you involved.
Olex is an athlete with a disability, who represented Ukraine at the 2014 Sochi, Paralympic games in skiing and biathlon. He has a long track record of program development and experience introducing persons with a disability to many different sports and physical activities.
You do not need to aspire to be a future paralumpian to participate. This event is super chill. Both our facilitators are passionate and dedicated to advancing access to sport AND recreation.
WINTERPEG IS FOR EVERYONE!
Don't miss this event!!
This event is FREE.

We supply all the equipment (Skis/boots/poles, kicksleds, snowshoes and, sit skis)
Nearby bus stop.
Access to the golf course club house, to warm up and, use the washrooms
All abilities welcome
No experience necessary. Please note that most of our adapted equipment and qualified trail guides can also be found at every Winterpeg ski library location. Attending these specialized sessions is not the only way you can participate!  Note that some ski sites may be more accessible than others depending on your skill levels and external conditions (such as transit availability or topography). If you have any questions about accessibility or to be sure we have the right equipment for you, please contact [email protected]. We're here to help.**IMPORTANT: We meet inside the golf club off Main street, just north of turnoff to the park.


If coming to the site by car, note that the access to the Golf Club is through the golf course parking lot just north of the primary turn off into Kildonan Park.It is easy to miss the turn when driving from either direction! Watch for a cut in the tall snowbanks. If driving northbound on Main Street, be on the lookout for the entrance to the parking lot on the right about 100′ past the main park entrance.If arriving by bus, the bus stop is located just north of the (mostly) empty parking lot. Here is the closest northbound bus stop on Google Maps. (The southbound busstop is just across the street and will require walking a little eways to cross safely.

Important info for visually impaired skiiers coming by bus: When you arrive at the borthbound stop, head south on the sidewalk from the bus stop for approx.20m, then turn left into the parking lot then right to head south. The parking lot is fenced and mostly deserted in winter. The pathway leading to the club itself is located in the southeast corner of this parking lot. When you arrive in the southeast corner of the parking lot, you will come to a driveway heading straight east and a pathway heading south. Take the pathway! Head south along that pathway for 5m or so and follow it as it curves right to the main clubhouse door.

Important info for Transit Plus users: Be sure to let dispatch know that you are going to the golf clubhouse, not Kildonan Park's pavilion. It is a considerable distance from the centre of the park to our meeting point if that gets messed up.

If coming by bicycle from points south, know that the entry from Scotia is likely the most pleasant and regularly plowed, and if coming from the northeast, the new pathway on the Chief Peguis bridge is nice. Bike parking is fairly limited in the area around the golf club itself, but it is hidden away and there is lots of chain link fencing and some posts.
Kildonan Park Trail – golf course on Trailforks.com