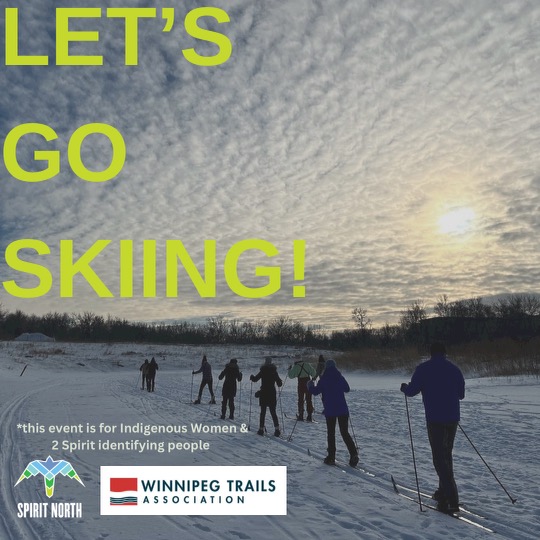 Indigenous Women and Two Spirit Ski
One of our most popular events last year! Typically run weekly.
This is the launch event and we are excited to welcome you to the beautiful U of M Southwood Lands for a special event. It is a fun opportunity to ski and meet people.
It is run in partnership with Waterways Canada and Spirit North. Ski grooming thanks to the U of M Dept of Kin Rec!
Facilitators include Jade Campeau, Anika Mortan, Nina Lavallee and Nadya Crossman-Serb.
This event is for all Ingienous, cis and trans women as well as 2Spirit, nonbinary and gender diverse people who are comfortable in a space that centers the experience of women.
Adults +18 recommended

This event is FREE
We supply the equipment.
RSVPs greaty appreciated (scroll down)
All abilities very welcome. Note that if you are a person with a disability who requires specialized equipment such as a sit ski, or additional assistance in the form of a guide for visual impaired skiiers or if you have any questions to ensure a good experience, please email our accessibility specialist [email protected] who would be happy to assist.
If coming by car, we recommend planning to come in from the Sifton entrance.
If coming by bus, this is the nearest bus stop.
Southwood Grounds Ski Area on Trailforks.com